4 Tips To Avoid Water Damage This Winter
Winter can be stressful for your plumbing as the colder weather can put a lot of strain on your pipes. The winter has its slurry of problems that can make your plumbing quite a nuisance, from frozen pipes bursting to clogs. Here are just a few ways you can avoid a headache this winter and make your plumbing happy!
Clean Your Gutter
We know how annoying yard work can be, but the most important thing you can do when you are outside cleaning up the yard is to take time cleaning those gutters! Gutters that are clogged up with leaves and other debris have poor drainage, leading to a slew of water damage issues.
The problem with clogged gutters is that when water begins to build upon your roof, it has nowhere to drain properly and will pool up on your shingles. When water stays on your roof long enough, it can begin to seep into your roof and lead to mold growth. Not only will mold growth be hazardous for your health, but it will destroy your roof. Avoid going to the hospital and paying huge bills by taking the time to clean your gutters.
Insulate Those Pipes
Sometimes pipes can freeze in the winter and can lead to a pipe burst. Not only are pipe bursts costly to fix, but they can also be a mess that damages large portions of your home's foundation. Avoid frozen pipes by scheduling and taking the time ahead of the colder weather to insulate your pipes. Using your plumbing more often can help cut down on the risk of frozen pipes, as not using your plumbing can increase the chance of your pipes freezing.
Check your Water Heater/h2>
If you notice that your hot water has been inconsistent, or your hair might be drier than usual after taking a shower, you might have an issue with your water heater. Make sure to have your water heater regularly inspected to avoid sediment build-up that can lead to pipe leaks around your home if you're not careful. Leaky pipes will cause mold to grow on water-damaged surfaces, and we know how bad mold can get. Take Care of your Drains
When it comes to cleaning up after dinner, avoid throwing oil or greasy food down your drains! Oil should never go down a drain, especially in the winter, as the cold weather will cause the oil to cool down faster. When the oil cools down in your pipes, it will cling to the sides and harden, leading to clogs. Grease clogs are not only unpleasant because they can smell, but if grease hardens deep enough in your plumbing, it can cause significant clogs that will put extra pressure on your plumbing. Untreated clogs can lead to pipe bursts, so avoid the sink when you need to get rid of greasy food or oil.
At S & D Plumbing we have years of experience under our belt, so we know how to tackle winter plumbing issues. Call today, and we will be happy to help you with any of your plumbing concerns!

Contact Us Today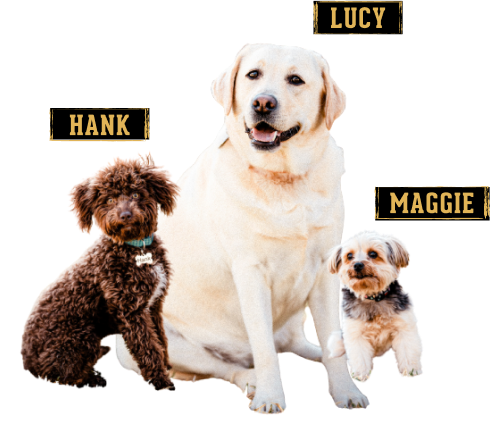 Family-owned & operated is how we roll, Mascots included!
Trust our experts to provide the cost-effective plumbing solutions you need — always backed by a 100% customer satisfaction guarantee!
How We Work
3 Simple Steps To Peace Of Mind
BOOK AN APPOINTMENT
Schedule an appointment with one of our licensed plumbers
PRICING OPTIONS
Our expert plumber will diagnose your issue and provide upfront pricing and multiple service options
EXPERT SERVICE
Sit back and relax as we save the day and deliver renewed confidence in your home