7 Instagram Bathrooms To Inspire Your Next DIY Project
The average American spends almost 3 years of their lives in the bathroom—why not do it in style? The #BathroomsOfInstagram tag has some great remodeled and renovated bathrooms you can look to for inspiration. We collected some of our favorites and paired them with our team's plumbing expertise.
Keep reading to get inspired by bathrooms you won't want to leave!
The bold black walls of this bathroom, paired with gleaming metallic fixtures, create a sophisticated aesthetic for this bathroom. It's easy enough to paint the walls of your bathroom with a bold color of your choice, but there's a lot of research that goes into selecting the best fixtures for your home. May sure to choose a brand that boasts style and functionality–and contact our team to help you install them correctly!
It's hard to believe, but this bright bathroom was fitted 15 years ago! The remodel included redone doors, a new mirror, and a fresh set of cabinetry for a refreshed, spa-like feel. When redoing older bathrooms, be sure to speak to a professional plumber to learn about eco-friendly fixtures and low-flow upgrades to your toilet.
Bonus points: adding plants provide a pop of color to the room and helps remove harmful pollutants from your home's indoor air quality.
"A tub in any other color would look just as sweet…" Okay, so the great William Shakespeare didn't write this, but we still think it merits poetry. This redesign features a bold, black tub as the centerpiece for the bathroom's design.
Bonus points: the gorgeous woven Roman shades are the perfect way to add some privacy to your bath without dulling the room's abundant natural lighting!
Reclaimed wood, anyone? This custom-designed cabinetry adds a bright splash of color to the room and creates a ton of storage for your bath bombs and other bathroom necessities.
Bonus points: adding a large mirror to your bathroom is a great way to make a small bathroom feel larger!
This bathroom remodel takes a more classical colonial aesthetic. The blue walls create a calming atmosphere and the simple marble counters offer both durability and elegance to the space. Pairing the clean lines of this bathroom with a reclaimed wood mirror adds a touch of nostalgia to balance the room.
Everything that glimmers are…green? Despite Pantone's choice for Color of the Year, designers know that green is the most popular color in 2020. This statement wallpaper adds a gorgeous splash of color to this room—just be sure to use your bathroom fan to prevent water from collecting on the walls!
If wallpaper in a bathroom isn't your jam, try tile! This design focuses on simplicity in both design and functionality—and the jewel-toned vanity creates a splash of color that connects the whole space. (Cat not included.)

Contact Us Today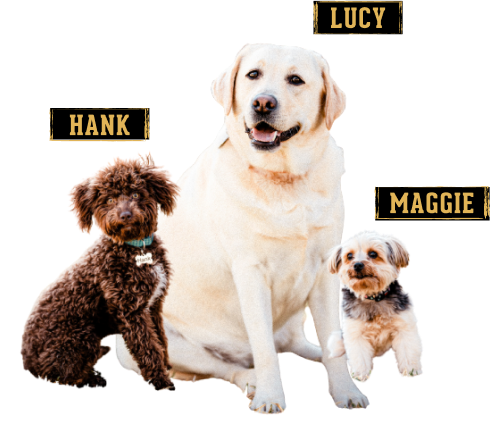 Family-owned & operated is how we roll, Mascots included!
Trust our experts to provide the cost-effective plumbing solutions you need — always backed by a 100% customer satisfaction guarantee!
How We Work
3 Simple Steps To Peace Of Mind
BOOK AN APPOINTMENT
Schedule an appointment with one of our licensed plumbers
PRICING OPTIONS
Our expert plumber will diagnose your issue and provide upfront pricing and multiple service options
EXPERT SERVICE
Sit back and relax as we save the day and deliver renewed confidence in your home