Pet Owners Plumbing Tips
If there is one thing with which pet owners always have trouble, it's keeping their pipes and drains clear of hair and other debris.
Whether giving them a bath or watching Fido drink from the toilet bowl, these and other things can actually result in needing the services of a plumber from time to time.
To make sure you have drains and pipes that are always clear despite the best efforts of your pet, here are some tips to follow in your Austin home.
Exposed Drains and Pipes
One of the biggest problems pet owners have with plumbing is having their pets damage exposed drains and pipes.
Puppies love to chew on anything they can find, and an exposed pipe can provide hours of fun for them but cost their owners quite a bit in repairs.
Along with puppies chewing on pipes, kittens can crawl into open drains, which results in a plumber being called to set them free. To avoid these situations, have a plumber install drain covers and cover exposed pipes.
Avoid Flushable Litters
While flushable litters are thought of as litters that are perfectly safe for flushing down any toilet, plumbers everywhere tend to tell a different story.
Many cat owners use these products as a matter of convenience, but usually wind up only trading in one set of minor problems for much bigger ones. If flushed down the toilet, many of these litters become almost as hard as concrete in the pipes and drains.
When this happens, a plumber will need to be called to fix the problem as soon as possible. Because this can be a time-consuming repair, the bill is often quite high for this repair.
And while on the topic of toilets, dogs should not be allowed to drink from the toilet, since they can shed large amounts of hair into the water that eventually clogs up pipes. To keep them from doing this, keep the toilet's lid down and be sure they have plenty of fresh water to drink at all times.
Install Drain Strainers
Extremely useful for giving baths to Fido or Fluffy, drain strainers can prove beneficial when catching hair or other debris that otherwise would go down the drains and into the pipes.
If this is a constant problem at your Austin home, a plumber can recommend the best drain strainers to use or install ones designed to catch pet hair.
Don't let your fluffy pup clog up your drain! If you need drain cleaning in your Austin, TX home call S & D Plumbing today!

Contact Us Today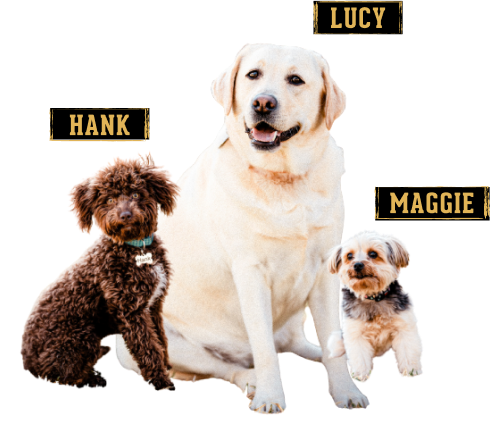 Family-owned & operated is how we roll, Mascots included!
Trust our experts to provide the cost-effective plumbing solutions you need — always backed by a 100% customer satisfaction guarantee!
How We Work
3 Simple Steps To Peace Of Mind
BOOK AN APPOINTMENT
Schedule an appointment with one of our licensed plumbers
PRICING OPTIONS
Our expert plumber will diagnose your issue and provide upfront pricing and multiple service options
EXPERT SERVICE
Sit back and relax as we save the day and deliver renewed confidence in your home