Seek A Vocation That You Can Be Proud Of!
Is the Insecurity of a College Degree Weighing You Down? Cooperative Education is Here For Your Future!
At S & D Plumbing, we have experienced the demand for skilled technicians in the workforce, along with the monetary perks that come from engaging in an applied training career. Because of this, we have partnered with the Texas State Technical College's (TSTC) Cooperative Education Program, which allows high school students entering the 11th grade to participate in the opportunity to train/work alongside our plumbing family!
The unique partnership between Taylor, Bartlett, Granger, Thrall, and Thorndale's independent school districts, S & D Plumbing, and the TSTC will have an amazingly positive impact on the students of these particular areas. Providing a training program with zero tuition, supplies, or textbooks costs, this program not only allows teenagers to get a head-start in their career developing skills, but it does so without adding monetary strain.
With the current national struggle to find steady and reliable jobs, the Cooperative Education program will help high school students graduate with a technical certification, 2 years of work experience, up to 27 college credits, and a job that will earn them from $15-20 an hour. Hours worked, both in the classroom and on the job, will be applied towards each student's Tradesmen's Plumbing License through the State Board of Plumbing Examiners. Upon their final certification by TSTC, students interning with S&D will be eligible for scholarships through the Associated Plumbing-Heating-Cooling Contractors of Texas (PHCC Texas) to continue their education. Through the professional yet practical foresight of Mr. Dowdy, an elegant solution has been created to connect Texas' future workforce with opportunity. As students in high school prepare to select from a range of endorsement paths that have been created by Texas House Bill 5, Sam Dowdy and the partnership he has initiated have already built a bridge for some Central Texas students seeking a Business and Industry Endorsement. For these students, they can now graduate high school and be immediately employable and eligible for a Tradesman's license.
As we like to say here in S & D Plumbing, you don't build a business, you build people and people build the business! So come be part of our family-owned and operated plumbing company, we are looking forward to growing our family while serving the Austin area in every way possible.

Contact Us Today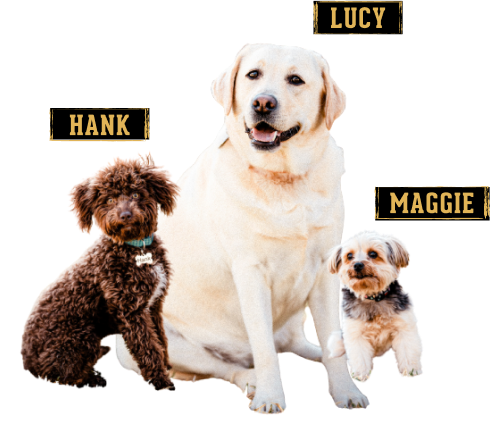 Family-owned & operated is how we roll, Mascots included!
Trust our experts to provide the cost-effective plumbing solutions you need — always backed by a 100% customer satisfaction guarantee!
How We Work
3 Simple Steps To Peace Of Mind
BOOK AN APPOINTMENT
Schedule an appointment with one of our licensed plumbers
PRICING OPTIONS
Our expert plumber will diagnose your issue and provide upfront pricing and multiple service options
EXPERT SERVICE
Sit back and relax as we save the day and deliver renewed confidence in your home