Protecting Your Pipes During Winter: 4 Tips
As the chill of winter approaches in Austin, TX, it's time to think about more than cozy sweaters and warm drinks. Your home's plumbing system also needs attention to ensure it can withstand the potential for freezing temperatures and other hazards of the season.
At S & D Plumbing, we understand the importance of winterizing your pipes, and we're here to guide you through the process to keep your plumbing in top condition.
Why Winterize Your Pipes? Benefits & Importance
Winterizing your pipes is crucial, especially in Austin's climate, where the occasional cold snap can catch you off guard. When temperatures drop, the water in your plumbing system can freeze and expand, causing pipes to crack, burst, or rupture.
By taking proactive measures to winterize your pipes in Austin, TX, you can enjoy several benefits:
Preventing frozen pipes: When water freezes inside pipes, it creates pressure that can cause them to burst. Insulating your pipes and taking preventative steps can greatly reduce the risk of frozen pipes, ensuring a steady water flow all season.
Avoiding costly repairs: Repairing burst pipes and water damage can be expensive and time-consuming. Winterizing your plumbing is a small investment compared to the potential repairs and restoration costs of frozen and damaged pipes.
Maintaining water supply: Frozen pipes can lead to reduced water pressure or a complete lack of water supply. By winterizing your pipes, you'll ensure you have access to a consistent and reliable water source during winter.
The Consequences of Neglecting Winterization
Choosing not to winterize your pipes can lead to a range of unfortunate consequences, including:
Burst pipes: The most immediate danger of not winterizing is the risk of burst pipes. The expansion of frozen water inside pipes can cause them to rupture, resulting in water leaks and property damage.
Water damage: Burst pipes can quickly lead to water damage to your walls, floors, and belongings. Water damage requires costly repairs and can create an unhealthy environment with the potential for mold growth.
Structural damage: Water seeping into your home's structure can weaken foundations, walls, and ceilings, compromising the structural integrity of your property.
Increased expenses: The costs associated with repairing burst pipes, water damage, and structural issues can add up quickly. You may also incur higher utility bills due to leaks and inefficient water usage.
Tips for Winterizing Your Pipes
Here are some expert tips to help you winterize your pipes effectively:
Insulate exposed pipes: Insulate pipes in unheated areas like basements, attics, and crawl spaces. Pipe insulation sleeves or heat tape can prevent them from freezing and bursting.
Drain outdoor faucets: Disconnect and drain garden hoses and close the outdoor water supply valve. Leave the faucet open to allow any residual water to drain, preventing freeze-related damage.
Seal gaps and cracks: Seal gaps and cracks in walls, windows, and foundations to prevent cold air from infiltrating your home. This helps maintain indoor temperatures and reduces the risk of frozen pipes.
Let faucets drip: On particularly cold nights, open faucets slightly to let water drip. It relieves pressure inside pipes, reducing the chance of freezing.
Choose S & D Plumbing in Austin, TX
When winterizing your plumbing in Austin, TX, you need a trusted partner who understands our unique climate challenges. At S & D Plumbing, we have experience working in Austin's weather conditions since 1980, and we pride ourselves on our expertise and commitment to providing top-quality plumbing services.
Need professional plumbing services in Austin, TX? Call S & D Plumbing at 512-595-5341.

Contact Us Today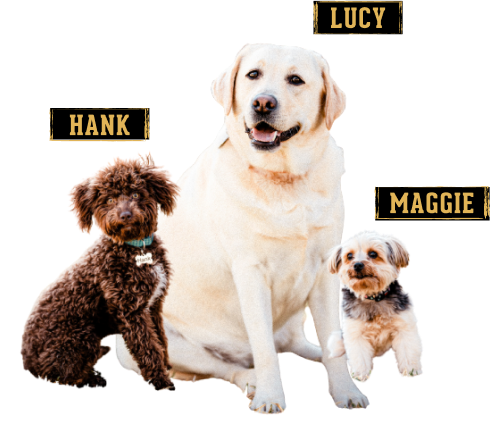 Family-owned & operated is how we roll, Mascots included!
Trust our experts to provide the cost-effective plumbing solutions you need — always backed by a 100% customer satisfaction guarantee!
How We Work
3 Simple Steps To Peace Of Mind
BOOK AN APPOINTMENT
Schedule an appointment with one of our licensed plumbers
PRICING OPTIONS
Our expert plumber will diagnose your issue and provide upfront pricing and multiple service options
EXPERT SERVICE
Sit back and relax as we save the day and deliver renewed confidence in your home